Gramm and Kilpatrick - eager to help their candidates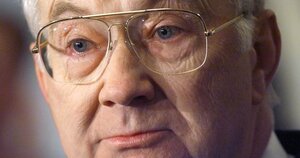 AFP/Newscom
It was just like the spot where Mr. Baseball - Bob Uecker - always sits: former Senator Phil Gramm right there in the front row yesterday at a John McCain event in Aspen, Colorado.
The senator, who was once a close advisor to McCain until he called Americans a "nation of whiners," joined the presumptive Republican candidate to raise money.
Is Gramm back on board - perhaps in charge of messaging? "A nation of whiners" is a catchy slogan. And there are no worries of a lawsuit, it seems that Jackson Browne has never recorded a song with that title.
No, said the Senator. He is merely a "private in the army" to help get McCain elected.
Showing true bipartisan spirit, Obama's team lovingly welcomed Gramm back to the McCain fold. In fact, Obama's team was so happy it put out an email with the subject line reading, "Heeeeee's back!"
The McCain team, of course, would probably send out an email if Detroit Mayor Kwame Kilpatrick gets the opportunity to show his support for Obama at the Democratic National Convention in Denver.
The mayor is trying to go. Sure, he's got those 10 felony charges filed against him but a party is a party.
So Kilpatrick took it to the judge. Legally, he's not allowed to travel out of state. And they aren't joking up in Michigan. He decided to test it last week by going to Canada. Sure enough, they were serious about the travel ban and they gave him a free night in jail.
---