Alaska's Ted Stevens gets primary win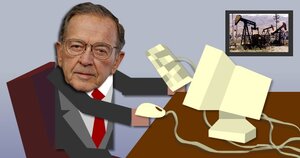 Jake Turcotte
One down, one to go.
The longest serving Republican in the history of the U.S. Senate took the first step on Tuesday toward winning his eighth term with more than 63 percent of yesterday's vote. He topped his closest competitor by more than 35 points.
Alaska is a key battleground state for the Democrats this year with both Stevens and incumbent Representative Don Young mired in legal issues.
Last month, Stevens was indicted by a federal grand jury on seven felony counts involving a failure to report gifts. At issue is his house - or the expansion and remodeling of it. He is charged with accepting some $250,000 for improvements to his home along with other gifts.
After his primary victory, the senator, known for speaking his mind, quickly compared his general election opponent, Anchorage Mayor Mark Begich, to national Democrats and energy exploration - particularly ANWR.
"This is still a Republican state," Stevens said, according to the Anchorage Daily News. "You think they're going to go for Obama? You think they're going to go with Schumer who's against drilling in the arctic and offshore?" He was referring to Democratic Senator Charles Schumer of New York.
---