Republican insiders caught by hot mic: Race is over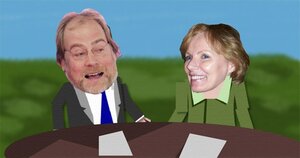 Jake Turcotte / AP Photo
Don't expect Republican strategist Michael Murphy and Wall Street Journalist column Peggy Noonan to receive Christmas cards from the John McCain and Sarah Palin campaign this year.
On the most critical night of the year so far for the McCain-Palin ticket, the two Republican insiders were talking with MSNBC's Chuck Todd about the Palin VP selection.  The segment wraps up.  End of story.
Not so fast.
The problem? They kept talking. The mics were still on, and they didn't know it.
So what do they think when not spouting the made-for-TV talking points?
"It's not going to work," Murphy said.
Noonan said the race was over, and that Palin was not the most qualified woman for the job.
What would be most interesting is to hear what they said before they thought they were off the air.
Watch the video here.
---