How Obama can win the campaign? Ask the media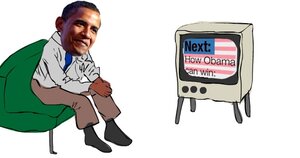 Jake Turcotte
If Obama campaign honchos David Axelrod and David Plouffe are worried about the next steps for their candidate, help is on the way.
With 51 days to go and polls showing that Republican nominee John McCain is either slightly ahead or tied with Barack Obama, there is plenty of advice this Sunday morning specifically geared to help the Democratic nominee.
Willie Brown, former Mayor of San Francisco, tells Obama to knock off the jokes.
And forget the comedy, Barack. You are not naturally funny and you do not speak "street." You speak like a professor. And you do not know how to set up a joke. That "lipstick on a pig" line clearly backfired.
If you had said, "As John McCain said about Hillary Clinton's health care ... lipstick on a pig is still a pig," at least you would have had a frame of reference to fall back on.
You didn't, you left yourself left wide open and you got nailed. Now everything you say will be double-examined for sexism.
---