Live from New York it's Sarah Palin, well Tina Fey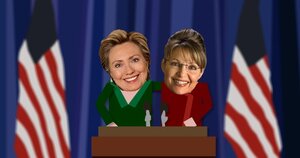 Jake Turcotte
Barack Obama canceled his appearance on Saturday Night Live in the wake of Hurricane Ike, but Sarah Palin was still there - played by former SNL star Tina Fey.
Fey's reviews for playing the Republican nominee for Vice President are almost as good as Palin's accolades following her GOP convention speech.
Well-received
"Tina Fay dazzles," says the Orlando Sentinel's TV Guy.
The Hartford Courant's TV guy, Roger Catlin, agrees:
"She nailed it in a way that few other people could do -- from that strange Northern accent to the way she looked out of the side of her eyes to that weird thing she does with her mouth that I hadn't even noticed before.
"Brilliant" says Rachel Sklar at the Huffington Post:
"Fey, the "30 Rock" creator and former SNL star, returned triumphantly to the show last night to play Palin in a brilliant impersonation, knocking it out of the park..."
Lines of the night?
---