Barbra Streisand and Barack Obama - like buttah...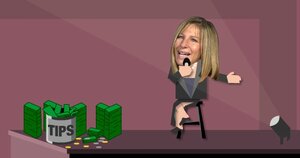 Jake Turcotte
It seems that the Tina Fey impersonation of Sarah Palin this past weekend on Saturday Night Live was almost universally enjoyed – even by Sarah Palin herself, according to her spokesperson.
Oh yeah, the one person who didn't get the talking point that it was funny? McCain strategest Carly Fiorina.
"The portrait was very dismissive of the substance of Sarah Palin, and so in that sense, they were defining Hillary Clinton as very substantive, and Sarah Palin as totally superficial," Fiorina said.
Memo to Carly: It's OK to laugh.
Coffee Talk?
With Barbra Streisand holding a fundraiser tonight for Barack Obama, could a Mike Myers cameo of "Coffee Talk" be next in line?
This would give SNL back-to-back weeks of ratings success. And would undeniably be hilarious. Just let Myers ad-lib it. Whatever. Just do it.
Although the rest of the season opener appeared to have been panned (Michael Phelps - stick to swimming), the first night out scored its biggest premiere since 2001.
Back to the fundraiser
Streisand is all about Barack now. Originally a fervent supporter of Hillary Clinton, she is now a big-time Obama backer and is vocal about it. She, in fact, uses her website to talk about it. Recently, she lambasted the McCain campaign for selecting Palin.
---