McCain staffers attempt to derail McCain's campaign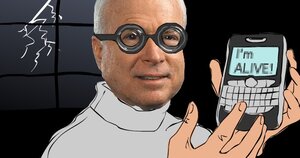 Jake Turcotte
With friends like these...
In football, all it takes is one offsides penalty and the entire offensive plan can fall apart. It's the same thing in politics. Everyone can be 'on message,' but one little error can derail the campaign for a day, a week, or for its entirety.
Just think back to two weeks ago, when the McCain campaign got tired of answering the "how thoroughly was Sarah Palin vetted" question, or just last week when the Obama campaign got disgusted with the "pigs on a lipstick" questions.
There are plenty of land mines out there.
Since hockey is all the rage these days with the addition of the GOP's favorite hockey Mom as the vice presidential nominee, the McCain staff today performed a hat trick (warning: mixed metaphors ahead).
First, one McCain staffer pulls an Al Gore (claiming to invent something really big) and second, another McCain staffer pulls a Joe Biden (claiming someone isn't the best qualified) – twice.
Strike one
How about a claim that John McCain invented the BlackBerry?
McCain's economic adviser, Doug Holtz-Eakin, held a conference call this morning apparently forgetting that if you make a grandiose invention claim you just might be the subject of ridicule.
---