Obama, McCain battle for momentum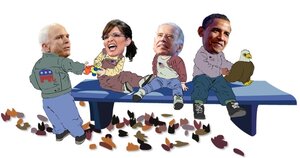 Jake Turcotte
To use a sports analogy, a campaign can be looked at like a basketball game. Not an organized game with referees and enforced rules, but more like a pickup basketball game -- "make it, take it" style.
That is, when you are on offense and you score - you pour it on. You get the ball back and try to score again. This continues until there's a game-changer. Great defense gives the other team the ball back. A thunderous block shot (Ben Wallace, 2006). A magnificent steal (Larry Bird, 1987) . Or the offensive team simply blows it -- like perhaps the worst and most humorous play in the NBA last year where New York Knicks forward Zach Randolph was amazingly awful.
Moving into football, we saw that same sort of thing last night with DeSean Jackson's unbelievable pre-touchdown celebration. The Philadelphia wide receiver thought he had crossed the goal line and threw the ball away on the one before launching into a Chad Johnson Ocho Cinco-like pose-off.
Oops
---