Biden: I was against the ad before I was for it!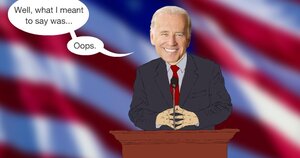 Jake Turcotte
Joe Biden is never boring...
When interviewed by CBS anchor Katie Couric yesterday, Biden condemned a recent Obama ad that poked fun at John McCain's "inability" to use a computer.
"I thought that was terrible by the way," he said. "If I'd have had anything to do with it, we never would have done it."
Rapid response
The ever-helpful McCain communications team -- rivaled only by the always-helpful Obama communications team -- seized on the remarks, sending out emails making sure the press corps was aware of the Biden-Couric exchange. As a bonus, they included a statement from a McCain spokesman complete with another dig at the New York Times (which appeared to be the talking point of the day).
"While the New York Times and other media outlets were silent in the face of Barack Obama's shameless and dishonorable attack on John McCain, even Obama's own running mate has now condemned the ad as 'terrible,' admitting he never would have approved it," spokesman Brian Rogers said. "Barack Obama has brought the sleazy gutter politics of Chicago to our national stage, exposing his call for a 'new politics' as a lie and embarrassing even his own running-mate with the low road campaign he's running."
---