John McCain's September surprise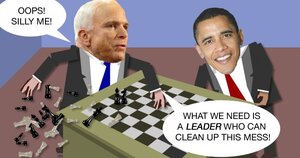 Jake Turcotte
It's like 1984 all over again.  Not the presidential race.  Reagan annihilated Mondale in that contest winning 49 out of 50 states and a whopping 58 - 40 percent schlapping in the popular vote.
This is like November 23, 1984.  A day of legend.  Boston College down by four with six seconds remaining. Doug Flutie scrambles and heaves up a 48 yard Hail Mary.  His favorite receiver is in the right place at the right time.  BC wins.  The colloquial "crowd goes wild" (not in Miami but around TV sets in New England, anyway). Flutie goes on to win the Heisman.
Titanic
Is John McCain the new Doug Flutie?
McCain's move to suspend his campaign and his call to postpone the debate can be criticized, mocked, derided and chastised as a ploy to shake things up.  To, as we referenced last night, change the conversation.
Things were not going well for the Republican candidate.  Poll numbers - down.  Jaws of life couldn't extract McCain's campaign manager from the Fannie Mae and Freddie Mac mess.  Sarah Palin was pulling off the greatest impersonation ever of Dick Cheney in an undisclosed location and the press wasn't happy about it.
---