Media to McCain: Are you going to debate?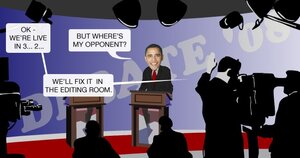 With word from Washington that there is an agreement in principle on the $700 billion plan to bailout the US financial markets, the question on every political observer's mind is -- what about the debate?
If we've got a bailout agreement, that should open the doors for the mano-a-mano verbal slugfest, right?
Not so fast. No matter how many times you phrase something to the McCain campaign, they'll keep giving you the same answer over and over again. Like the answers we received from McCain spokesman Ben Porritt when asked if there were any updates.
3:36pm: "There isn't a deal, until there's a deal."
4:10pm: "There is no deal until there is a deal. We are optimistic but priority number one is to find an economic solution."
We had progress anyway in terms of the number of words sent back.
Does that mean McCain would actually skip the debate and allow Obama to go it alone? Radio silence from the McCain campaign on that question.
Gutsy or Hail Mary?
No matter what happens with the debate tomorrow, McCain's move Thursday night couldn't have shaken the political world up any more or received such polar reactions from people -- for example, former colleagues Newt Gingrich and Barney Frank.
Newt Gingrich called it gutsy.
"[It's the] greatest single act of responsibility ever taken by a presidential candidate," he said. "It is surprisingly irresponsible and politically dangerous for the Obama campaign to try and insist on a debate Friday night."
Democratic Representative Barney Frank brought up a Doug Flutie'ish sports analogy.
"It's the longest Hail Mary pass in the history of either football or Marys," Frank said.
---