Sarah Palin - still not ready for prime time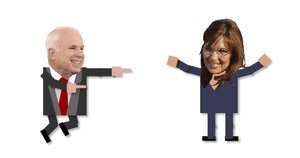 Although Sarah Palin's outing with CBS anchor Katie Couric has not been well-received, it may be too harsh to say Palin was like Chris Farley and Couric like Paul McCartney in this (admittedly role-reversed) version of this Saturday Night Live skit.
But since the Farley-McCartney interview was such great comic material, it's good to bring it up whenever possible and provide the link to it.
No, Palin was not Farley. But she wasn't good either. And with less than 40 days before Americans head to the voting booth, there's not much time to get Palin used to dealing with the national press.
"Bury the interview!"
It appears that she needs more time, but unfortunately for the McCain campaign, they don't have the luxury of putting her into an incubator to slowly ramp up to deal with the national press.
The interview with Couric had GOP strategist Rob Stutzman telling The Vote yesterday that McCain needs to participate in tonight's debate simply "to bury the Palin CBS interview!"
---