Palin to Biden: Bring it on!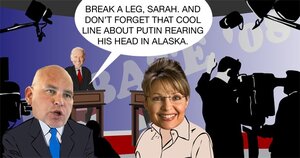 Jake Turcotte
It wasn't the trash-talking you see before a football game, but Sarah Palin showed some spunk today at a rally in Ohio.
With a new poll showing Barack Obama the decisive winner in the first presidential debate, all eyes are on Thursday night's vice presidential debate.
Let's just move forward
After a week that provided plenty of fodder for Saturday Night Live material, the Republican nominee for vice president was a crowd pleaser today and seemed eager to talk about the upcoming debate.
"I guess it's my turn now," she said. "And I do look forward to Thursday night."
"I'm looking forward to meeting him," she continued. "I've never met him. I've been hearing about his Senate speeches since I was in, like, the second grade."
Lower expectations?
She did the pre-debate spin, too, as in lowering expectations (although many GOP strategists have said after last week it's impossible to lower expectations any further).
"I have to admit though, he is a great debater and looks pretty doggone confident like he's sure he's gonna win, but then again, this is the same Senator Biden who said the other day that the University of Delaware would trounce the Ohio State Buckeyes. Wrong!"
---