Palin on Saturday Night Live? You betcha'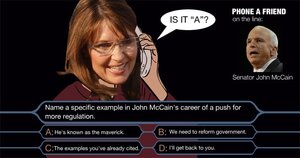 Jake Turcotte
Maybe this is the super secret October surprise. Sarah Palin goes on Saturday Night Live and gives the Republican ticket a shot in the arm. And Lorne Michaels, single-handedly, gives the McCain campaign a victory in November.
Perhaps McCain strategist Steve Schmidt met with Karl Rove and Michaels in Dick Cheney's secret bunker and they hatched the plan.
No confirmation from the McCain-Palin campaign so far, but the comedy prospects just seem too tempting to pass up. With all the watercooler talk about Tina Fey's spot-on impersonation of the Republican nominee for vice president, it will mean great ratings for the network. And it sure couldn't hurt the McCain campaign.
She's doing it
The New York Post is reporting that Palin's appearance on Oct. 25 is signed, sealed, and delivered.
Palin's a fan
That last sentence is definitely true. She told reporters earlier this week that she wanted to go on the show and meet her highly regarded impersonator, Tina Fey.
"I love her [Fey], she's a hoot and she's so talented," Palin said. "It would be fun to meet her and keep on giving her new material."
---