Can McCain win tonight? Three things he must do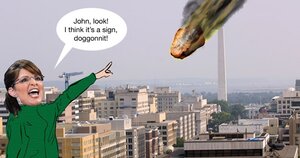 Jake Turcotte
Just hours before the third and final debate tonight, expectations for a McCain resurrection in the 2008 presidential race are low.
It's like the movie, "Dumb and Dumber" when Jim Carrey says to his wannabee girlfriend, "What are the chances of a guy like you and a girl like me… ending up together?"
After hemming and hawing, she tells him the odds are "like one out of a million."
To which Carrey excitedly responds, "So, you're telling me there's a chance!"
Really long odds
Those are about the chances that George Mason University Professor Michael McDonald is giving the McCain campaign of winning the election.
"You are more likely to be killed by a meteor dropping on your head than McCain becoming president," McDonald told the BBC.
The polls are daunting. But as the immortal statesman Billy Ocean once said, "When the going gets tough, the tough get going."
It's go time
---