Despite polls and pundits, McCain hanging on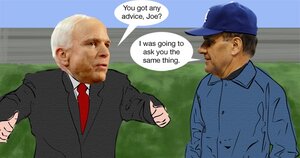 AP/Jake Turcotte
John McCain and Joe Torre have a lot in common right now.   They're both underdogs and they both need a win Wednesday night.
Outwardly, neither show any sign of worry.  Despite his 1-3 record in a best of seven series, Torre on Tuesday calmly laid out his strategy.
"What we have to do is make sure we just go out and put the blinkers on tomorrow and win tomorrow and then concern ourselves with the next day and hopefully in Game 7 again," Torre said.
Still alive
McCain was calm Tuesday as well, calmly repeating a line to an Orlando TV reporter which comes second nature to him.
"Political pundits have written off my campaign more times than I can count," he said.
That is true, but that bandwagon is going to get really full Wednesday without a big win.
Polls
McCain's got to turn around numbers and trends - fast. A new CBS/New York Times poll released Tuesday shows Obama leading McCain by a 14 point margin -- 53 to 39 percent.
"Among independents who are likely voters - a group that has swung back and forth between McCain and Obama over the course of the campaign - the Democratic ticket now leads by 18 points. McCain led among independents last week," says the CBS report.
Things look significantly better over at Gallup as their rolling three-day poll shows Obama only up by nine points with a 51 - 42 point edge.
Battleground states
---