McCain throws plumber at Obama in final debate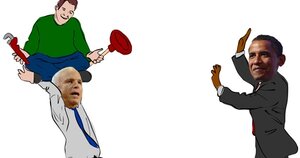 Jake Turcotte
Something interesting happened last night at the third presidential debate: John McCain showed up.
Notably absent from the prior two, McCain was like Sylvester Stallone's character in the prequel to Rocky 7 when he said, "Paulie, I think I got somethin' left in the basement."
McCain had a whole lot left. Like that character from the prequel, he didn't throw any knockout punches but he fought.
Doom
By the way, that thing we told you about yesterday ... you know the George Mason University professor who said, "You are more likely to be killed by a meteor dropping on your head than McCain becoming president."
We checked - for the sake of humanity. That was just an analogy. Not an actual true law of physics.
No one is annointing McCain "44" but his performance means there's a lot less "shoulda, woulda and couldas" from conservatives this morning.  Perhaps most viewers, as Monitor colleague Dante Chinni points out, believe Obama won the debate.
Hey Joe
From almost the beginning, McCain was on offense. At first down and everything to go, McCain didn't throw up a Hail Mary, rather he threw up a "Hey Joe" -- as in Joe the plumber.
We told you about Joe the plumber earlier this week (and got tons of angry mail for merely bringing him up.)
---