McCain tries to steal Pennsylvania; Obama's poll numbers widen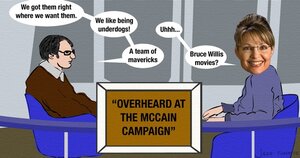 Jake Turcotte
Got 'em right where we want 'em. We like being underdogs. We're the comeback kids. It's not over 'til it's over. Where's that Saks Fifth Avenue credit card - I need some new pants.
If you were playing the '70s game show the $25,000 Pyramid, "Things overheard at McCain Headquarters" could be the answer.
And with 13 days to go, anyone in the political game knows there's plenty of time left. Anything can happen in the last two weeks.
Down polls
It would be preferable for the McCain campaign if poll numbers start turning around, however. Reuters is reporting this morning that Barack Obama's numbers are moving up for the third day in a row.
The latest C-SPAN/Zogby poll results with our full coverage of Election 2008">Reuters/C-SPAN/Zogby poll -- a three-day rolling poll -- gives the Democratic nominee for President a 10-point lead with a 52 - 42 margin.
Says pollster John Zogby, "Obama just keeps growing, he has expanded his lead among almost every major voting group. McCain seems to be out of steam for the moment."
He's showing plenty of steam, however, in Pennsylvania. Not in terms of polling, but emotion. Speaking to a crowd yesterday, McCain yelled, "Stand up, stand up, stand up and fight. America is worth fighting for. Nothing is inevitable here. We never give up. We never quit. We never hide from history. We make history."
---