Biden's "rhetorical flourishes" lead to Palin-like seclusion?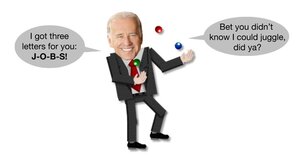 Jake Turcotte
In a sea of downward trending polls, a campaign will grab on to anything to stay afloat.
While Bill Ayers appears to be an anvil, the McCain campaign is grabbing on to Joe Biden like a life preserver.
Joe's like Santa Claus
That's probably why the Democratic nominee for vice president isn't talking much.  Because when he does, he's the gift that keeps on giving.
Take the "Gird your loins - an international crisis is coming" speech.
No matter how the remarks were intended, his prediction that, if elected, "a generated crisis [would occur] to test the mettle" of Barack Obama has been a hot topic and an unwelcome one for the Obama campaign.
Rhetorical flourishes
Joined by a team of 15 foreign policy advisors yesterday, Obama discussed challenges in the international arena that would face any president.  When asked about Biden's remark, Obama said what everybody seems to say -- that's just Joe.
"Joe sometimes engages in rhetorical flourishes," Obama said.  "But I think his core point was that the next administration is going to be tested, regardless of who it is.  The next administration is going to be inheriting a host of really big problems."
Biden spokesperson David Wade was more blunt in defending his boss a couple days ago.
---