Anchorage Daily News supports... Obama?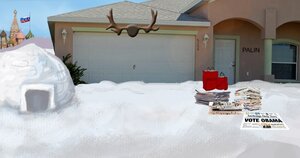 Jake Turcotte
Well, you can't call the Anchorage Daily News a homer.
In endorsing Barack Obama as its preferred presidential candidate, the newspaper put aside rooting for the home team and opted to choose the ticket that does not include Sarah Palin on it.
In sports terms
You could look at it this way. If a Pennsylvania sportswriter voted Penn State No. 1 this week, you could call him a homer. Penn State played well yesterday. And against Ohio State. In Ohio. But Texas is still No. 1.
But if the Nittany Lions got a vote from their home state, you'd understand it. It's home state love.
My homies
So if the Anchorage Daily News -- Alaska's largest newspaper -- opted for the McCain-Palin ticket, you could rack it as the same type of deal.
After all, it's always good to have big friends in Washington -- especially with Ted Stevens no longer a certainty.
The scoop 
The writers of the editorial state that "the election is ... not about Sarah Palin."
Yeah, but ask anyone -- at least us outsiders anyway. We don't want to know necessarily why you chose Barack Obama over John McCain, we want to know why you didn't back your own.
---