Palin pushes McCain staff aside as blame game begins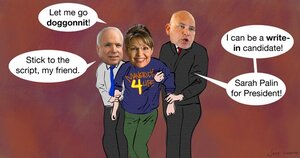 Jake Turcotte
Bill Clinton used Fleetwood Mac's "Don't Stop" as his theme for the 1992 presidential campaign. If reports of strife between Sarah Palin and the McCain campaign hold water, then the Alaska Governor might want to tap into Fleetwood Mac's library as well (assuming she wouldn't get sued, which is a big assumption). Her campaign song? "Go Your Own Way."
As most polls show Barack Obama pulling away from John McCain, there are rumblings and perhaps signs that Palin is pulling away as well.
They're not my staff
No, it doesn't appear that the Republican vice presidential candidate has any problems with McCain himself. But there are indications that she doesn't necessarily like his staff or has any future intention of following them.
Perhaps she gave up on following them earlier. Aides to McCain cite recent examples where Palin took things into her own hands. In Colorado last week, she insisted  on talking to reporters on a tarmac despite attempts by Palin staff to shut down the conversation. She also denounced McCain robo-calls. Before that, she was outspoken about her disappointment with the campaign decision to pull out of Michigan.
I'm done with 'em
Supporters of Palin say she's had it with the campaign staff.
"She's lost confidence in most of the people on the [campaign] plane," a Palin insider told Politico. He says she would like to further ignore staff advice and do things her own way.
But CNN reports campaign aides say she's a selfish renegade.
---