McCain grasps for critical red states with 8 days to go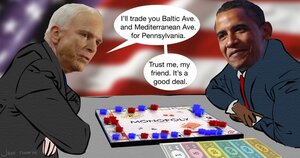 Jake Turcotte
Where to go with just eight days left?
If this were a monopoly game, you'd head toward the properties that are still up for grabs.
Boardwalk, Park Place
The big properties are already gone. California with its 55 electoral votes is like Boardwalk – and it looks solidly in blue territory. Texas with its 34 would be Park Place – and it's dyed-in-the-wool red. New York with 31? It's Pennsylvania Avenue, and it's Obama territory.
Up for grabs
But Florida is like North Carolina Avenue, and it is still up for grabs with 27 electoral votes. So, the Sunshine state will see a lot of the two campaigns.
Ohio, North Carolina, Virginia, Indiana and Missouri are all targeted as well. The other thing these states have in common? These are all states that President Bush won in 2004. So McCain is playing a lot of defense. The only offense McCain is playing is in Pennsylvania.
How do the candidates stack up so far?
Florida
---