McCain says "unscripted Obama" wants to redistribute wealth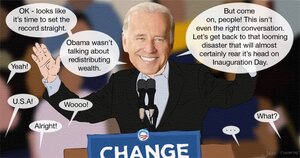 Jake Turcotte
John McCain got a lifeline today and it wasn't even because of anything Joe Biden said.
The Republican nominee for President slammed Barack Obama for comments Obama made in a radio program seven years ago which surfaced early this morning.
The McCain campaign says these remarks are further proof that Obama's fundamental philosophy is one of higher taxes in order to spread the wealth around.
McCain's take
"It is amazing that even at this late hour, we are still learning more about Senator Obama and his agenda," McCain told a crowd in Ohio.  "In a radio interview revealed today, he said that one of the quote -- "tragedies" of the civil rights movement is that it didn't bring about a redistribution of wealth in our society," McCain said.
"That is what change means for Barack the Redistributor: It means taking your money and giving it to someone else. He believes in redistributing wealth, not in policies that grow our economy and create jobs. He is more interested in controlling wealth than in creating it, in redistributing money instead of spreading opportunity," he continued.
Drudge
The previously unknown interview was uploaded onto YouTube sometime yesterday.  The Drudge Report alerted visitors of its presence with a screaming all caps headline, "2001 OBAMA: TRAGEDY THAT 'REDISTRIBUTION OF WEALTH' NOT PURSUED BY SUPREME COURT."
---