Hey - it's 30 minutes nonstop of Barack Obama tonight!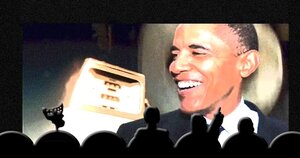 Jake Turcotte
Not getting enough politics? You're not alone. Who has?
Thankfully tonight at 8 p.m. (EDT) Barack Obama will be on every TV channel there is. And for a full 30 minutes.
Obama's infomercial
Tonight's the night Barack Obama goes the way of Richard Simmons, Matthew Lesko, and Miss Cleo. He's doing an infomercial.
Actually, he won't be everywhere. It may seem like it. He's bought up the 8 - 8:30 p.m. time slot on CBS, NBC, FOX, and the Spanish speaking network Univision.
It would be easy to make some lame McCain's-out-of-money joke like: to counterprogram Obama's monstrous network TV grab, John McCain will run a 30-second ad on an AM polka radio station in Zanesville, Ohio.
But that would be immature.
No ABC?
Obama's infomercial is not on ABC because apparently when the original deal was being put together the network didn't want to move its TV show "Pushing Daisies." This show is about a piemaker gifted with the mysterious ability to bring dead things back to life.
---