Obama's prime time address -- 33.5 million people like commercials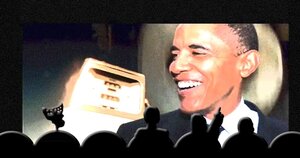 Some people liked it, some people didn't.  But the Barack Obama infomercial - in terms of sheer viewers - was more successful than regular programming at that same time.
This could be because people really enjoy political commercials -- the longer, the better.  Or because television programming has become really bad. Or maybe it's a combo meal.  Whatever it is, it worked for Obama.
Nielsen announced today that 33.5 million people watched the :30 minute Obama-drama last night.  The infomercial was aired on seven networks including: CBS, NBC, Fox, Univision, MSNBC, BET and TV One.
It did better for some networks than others.
NBC
It was a good move for NBC.  It brought in 10 million viewers -- much better than the 8 million people who watched the show they should have kept buried Knight Rider last week at the same time.
CBS
CBS saw an increase in viewers as well but not as dramastic.  It went from 8 million viewers last week with the program "New adventures of Old Christine" to 8.7 million viewers for the Obama show.
FOX
---