McCain campaign predicts greatest comeback ever - of all time even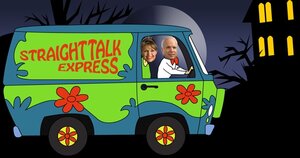 Jake Turcotte
Who didn't tear up when Rudy finally got his chance and was sent in to play for Notre Dame?
Who didn't get a shot of adrenalin when Adrian awoke from a coma and whispered in Rocky's ear, "I want you to do one thing for me. . . WIN!"
Who didn't feel that same sense of excitement when Joe the Plumber got on stage yesterday and.....
Yeah, that doesn't quite follow.
Halloween
Anyway.  It's Halloween and the polls are somewhat spooky for the McCain campaign.  But John likes the roll of underdog.  He's said it many times.  He is the underdog.  "Big time" - as Dick Cheney would say.
How bad are the polls?
They're kind of like the dancers from Michael Jackson's Thriller video: spooky-looking yet synchronized.  They all say the same thing.  Although unlike the video, there are no instances of limbs falling off.
Close to midnight
Bloomberg's not pulling any punches.  It's remote.  It's a longshot.  They report McCain "goes into the campaign's final weekend a bigger underdog than any victorious candidate in a modern election."
But they know that history is made all the time.  Some just may recall that the 2000 election was somewhat historic.
Polls
Gallup's daily tracking poll shows Obama strengthening his lead with an eight point margin, 51 - 43 percent.  In their expanded likely voter model, Obama has a nine point edge, 52 - 43 percent.
The latest Washington Post/ABC News tracking poll shows the same thing.  Obama up by nine points, 53 - 44 percent.
---