McCain scores big on Saturday Night Live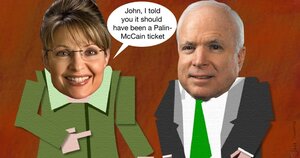 Jake Turcotte
Maybe Sarah Palin should have been on the top of the ticket.
John McCain's late-in-the-game appearance on Saturday Night Live went well. The ratings were good. And most so-called entertainment pundits gave it good reviews.
But, just like the debates, Sarah Palin was the larger draw.
Big ratings
According to NBC, the show averaged a 9.0 rating, 20 share in the 56 local markets metered by Nielsen Media Research. In plain English, that means the show did well. Or in Palin speak -- it did doggone good.
McCain's appearance gave the show its second best ratings in 11 years. Second to the show two weeks before that features ... Sarah Palin.
This was remarkable considering McCain appeared on the show with Ben Affleck, who is to ratings what the Hindenburg was to air travel. Not that "Gigli" wasn't a good movie or anything.
QVC
McCain appeared in two skits. The first had the Republican nominee hawking commemorative political wares alongside Tina Fey (as Sarah Palin) on QVC.
---