Illinois Governor accused of trying to sell Obama's Senate seat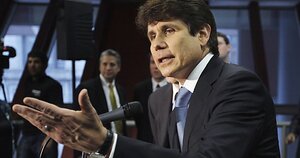 M. Spencer Green/AP/FILE
In a major embarrassment for the Democratic Party, Illinois Governor Rod Blagojevich was arrested Tuesday morning on charges he sought to benefit financially from his ability to name Barack Obama's replacement as a US Senator.
The United States Attorney's office in Chicago also charged the Democratic governor with threatening to withhold state assistance in the Tribune Company's effort to sell Wrigley Field as part of attempt to get the Chicago Tribune to fire editorial board members who had written critically of him.
Arm twisting the Tribune
The Tribune Company wants to sell the Chicago Cubs and Wrigley Field to reduce a massive debt load that caused the company to file for bankruptcy on Monday.
Both the governor and his chief of staff, John Harris, were arrested at their homes and taken to the Federal Bureau of Investigation offices in Chicago, according to the Tribune. They were each charged with conspiracy to commit mail and wire fraud and solicitation of bribery.
---