Rick Warren to deliver Obama invocation - gay community furious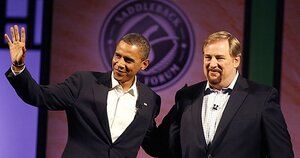 Richard Vogel/AP/File
Hey, remember that guy who put John McCain in the "cone of silence" only for it to be revealed that McCain was never in a "cone of silence" -- he was merely in his limo eating a ham sandwich?
Yeah, Rick Warren, the pastor of the Saddleback Church in Orange County. He was the one who hosted the first quasi-debate between Barack Obama and John McCain back in August (about two weeks before Sarah Palin went on her I-won-the-lottery-like-shopping-spree).
He's also the guy who wrote "The Purpose Driven Life," which has sold a bazillion copies since its release in 2002.
No likey
He seems like a nice enough guy, right?
Nope. There's a lot of Barack Obama supporters out there that don't necessarily like the man. In fact, Obama's announcement yesterday that Warren will deliver the invocation at his inaugural address has made many of these supporters livid.
---