Breaking News: Barack Obama is the next President of the United States!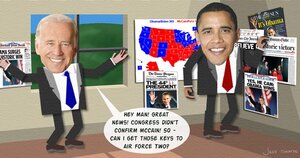 Jake Turcotte
Hey, how about this.... Vice President Cheney spoke and hundreds of Congressmen jumped up for a standing ovation today. And most of the crowd were Democrats!
Crazy talk?
He's just dreamy
Nope. The outgoing Vice President of the United States (who currently has a chilly approval rating of 29 percent) stood amid thunderous applause, shouts of encouragement, and looks of pride.
It was almost as though he was Leif Garrett in a 1976 Tiger Beat magazine.
His secret? Barack Obama.
Joint session
The Vice President announced in front of a joint session of Congress that Barack Obama would be the next President of the United States.
No, Cheney didn't just get the memo. It's a constitutional thing.
What the Vice President did today was to confirm the results of the election.
It's official
In case you weren't paying attention. Barack Obama won.
He and Joe Biden received 365 electoral votes while John McCain and Sarah Palin recorded 173.
Electoral College
---
Follow Stories Like This
Get the Monitor stories you care about delivered to your inbox.