It's Obama-palooza starring Bono, Beyonce, Springsteen, Usher...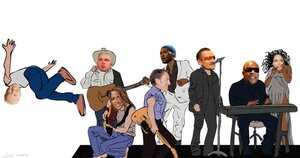 Jake Turcotte
Hey, what do you get when you have Garth Brooks, Beyonce, Bono, Sheryl Crow, Mary J Blige, Usher, Herbie Hancock, Bruce Springsteen, Shakira, James Taylor, John Mellencamp, and Stevie Wonder all on the same stage?
Well if they're all singing their own songs concurrently -- it's a giant train wreck.  But we're assuming that's not going to happen.
Big party
The Presidential Inaugural Committee finally released the names of the big-time entertainers that will kick off the 56th Presidential Inaugural on Sunday, January 18 from 7:00 - 9:00pm (ET).
The event entitled "We Are One: The Obama Inaugural Celebration at the Lincoln Memorial" is so jam-packed with entertainers, you may wonder how the heck are they going to cram it into a two-hour window.
---