Obama to name new FCC chief. The new Dr. J?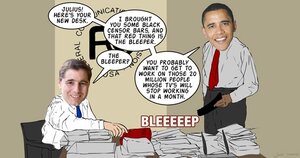 Jake Turcotte
When you think of the name Julius, who comes to mind?
Exactly. Dr. J. Julius Erving. The greatest dunker of all time.
But,that's not what this post is about. Cut us a little slack, please. On a political blog, you don't often have the opportunity to write about the former 76'er. And that's too bad. (So we put a video of Dr. J in action below).
The new Dr. J
Moving forward, perhaps the next time you hear the name Julius you'll think of Julius Genachowski -- as in the former Harvard classmate of the president-elect and the guy who is Obama's pick to head up the FCC.
Although the official announcement hasn't been made yet, sources say it is coming soon.
Internet bazillions
Currently Genachowski serves as Obama's top tech adviser on his transition team. Before then, Genachowski helped Obama raise some money for his campaign.
In fact, he's the guy credited for building Obama's Internet fundraising machine. And he's the guy who wrote Obama's detailed tech plan that supports net neutrality protections and affordable broadband access nationwide.
An old pro
He's no newbie to this gig. He's done the FCC thing before. In fact, he served as chief counsel to former FCC Chairman Reed Hundt from 1994 to 1997.
What's he been done since then? A lot. Really a lot.
---