Text of Barack Obama's "We Are One" speech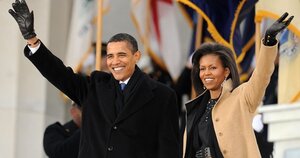 afp/newscom
The following are the prepared remarks for President-elect Barack Obama's pre-inaugural "We Are One" speech at the Lincoln Memorial on Sunday, January 18.
I want to thank all the speakers and performers for reminding us, through song and through words, just what it is that we love about America. And I want to thank all of you for braving the cold and the crowds and traveling in some cases thousands of miles to join us here today.
Welcome to Washington, and welcome to this celebration of American renewal.
In the course of our history, only a handful of generations have been asked to confront challenges as serious as the ones we face right now. Our nation is at war. Our economy is in crisis. Millions of Americans are losing their jobs and their homes; they're worried about how they'll afford college for their kids or pay the stack of bills on their kitchen table. And most of all, they are anxious and uncertain about the future - about whether this generation of Americans will be able to pass on what's best about this country to our children and their children.
I won't pretend that meeting any one of these challenges will be easy. It will take more than a month or a year, and it will likely take many. Along the way there will be setbacks and false starts and days that test our fundamental resolve as a nation.
But despite all of this - despite the enormity of the task that lies ahead - I stand here today as hopeful as ever that the United States of America will endure - that the dream of our founders will live on in our time.
---