Obama wins the BlackBerry war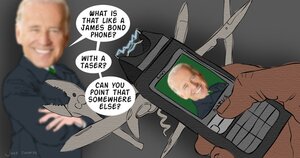 Jake Turcotte
For months people have been saying there's no way Barack Obama gets to keep his BlackBerry.
Guess what? Barack Obama gets to keep his BlackBerry.
It's good to be the king.
Stirring news
"I've won the fight, but I don't think it's up and running," President Obama told reporters on Thursday afternoon - seeming to pile on to complaints from new White House staffers that they've entered into a technological stone age.
Earlier in the day, fresh-faced White House Press Secretary Robert Gibbs broke the news to giddy reporters joking that the announcement was "almost as exciting as the presidential dog".
"The President has a BlackBerry, through a compromise that allows him to stay in touch with senior staff and a small group of personal friends in a way that use will be limited and that the security is enhanced to ensure his ability to communicate, but to do so effectively and to do so in a way that is protected," he said.
I dare ya'
Just weeks ago, then President-elect Obama sent out a warning in regards to those who might want to take away his BlackBerry.
"They're going to pry it out of my hands," he told CNBC.
Hacking
What about those pesky hackers?
Reports are that he'll have a super-duper-ultra-deluxe BlackBerry that is impervious to hacks - which means it'll be tougher to break into than merely typing "popcorn" into a Yahoo account.
(Did you forget already? That was Governor Sarah Palin's password to her ill-fated and hacked email account).
---