Huge inauguration photo is like a presidential "Where's Waldo?"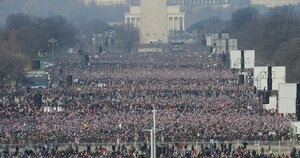 afp/newscom
Did you go to the inauguration? Want to see yourself? You can (maybe).
Photographer David Bergman went to the Inauguration and decided to take a photo. A really, really large photo.
The result is fascinating and a serious time-killer. It's like a presidential "Where's Waldo?"
Gigapan imager?
Bergman created a gigantic panoramic image of the Inauguration by putting something called a gigapan imager (a robotic camera mount) on his Canon G10 camera and took 220 images.
He proceeded to stitch the photos together creating a giant panoramic view of the Inauguration. The two-gigabyte image, which he says took his MacBook 6 1/2 hours to process, is online and is very entertaining.
Who can you see?
By playing with the photo (zooming and panning), you can find well-known people watching the Inauguration. Denzel Washington, Aretha Franklin, Bruce Springsteen, Presidents Clinton, Bush I, Bush II and their first ladies, the Bush twins, Congressman John Lewis, and many more.
---