White House email system implodes - people have to actually talk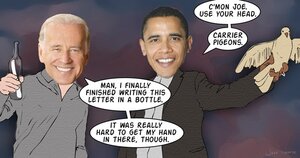 Jake Turcotte
Flintstones, meet the Flintstones.
White House staffers who have complained loudly about the technological limits of 1600 Pennsylvania Ave. even went further back in time yesterday with a collapse of the White House email system.
For almost 24 hours, email to and from the White House was stopped. BlackBerrys were dead (except Brickbreaker, of course). Could the administration function?
"Our apologies if you've e-mailed any of us in the last two-and-a-half hours. Our e-mail system is not working so well. So our apologies on that, and we'll endeavor to get you information from earlier in the day, hopefully in a little bit more of a timely manner, if we can get the e-mail to work," said White House Press Secretary Robert Gibbs yesterday unaware that the technogical blackout would last for many more hours.
Stone age
So did panic ensue?
Well, people did have to talk to each other. Face to face.
One press assistant in the White House told the Washington Post that things were so desperate that he actually had to meet people in person.
It gets worse. Yesterday's executive orders signed by the president? Passed out on paper. Things called photocopiers were used. Those pink "While you were out" notes appeared on desks.
Apparently the email system came back to life this morning.
---