Sarah Palin blasts Defenders of Wildlife for new anti-Palin campaign
(Read article summary)
Sarah Palin responds to a Defenders of Wildlife ad campaign targeting her support of aerial wolf hunting.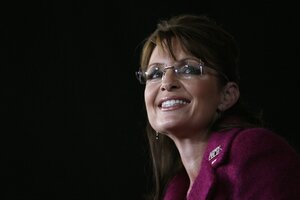 UPI/Newscom
Just like Joe the Plumber, Sarah Palin continues to be in the news.
Although Ms. Palin may not prefer to be lumped in with Mr. Plumber Mr. Wurzelbacher, both were a part of the Republican presidential campaign, both are active now in Republican politics, and both are getting a lot of news attention.
Palin, as the governor of Alaska and possible presidential candidate, and Wurzelbacher as adviser to the GOP on the economy (not to mention war correspondent, author, country western singer, and plumber).
Defenders of Wildlife
Regardless, on Monday, the environmental advocacy group Defenders of Wildlife went after Governor Palin for her support of a predator-control program in Alaska.
The reason they're focusing on her? It'll make news. According to a statement from the group, she's a high profile target.
"Sarah Palin isn't fading into the background, so neither are we," said Defenders Action Fund President Rodger Schlickeisen in a statement. "Given her known political aspirations, the American public deserves to know what she's doing in Alaska, and about her extreme anti-conservation policies."
The policy in question is aerial hunting. Specifically, shooting wolves from helicopters. Defenders calls it cruel. Palin calls it wildlife management.
Eye on Palin
---