Michelle Obama on the cover of Vogue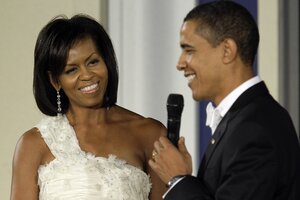 MATT ROURKE/AP/FILE
Woo-hoo!
First Lady Michelle Obama is going to be on the cover of Vogue magazine. That's great for us because this is one magazine we read every single week.
Oh. It's a monthly.
Anyway, for people who follow fashion, this is good news.
Rarified air
She's only the second First Lady to be on the cover. The first First Lady? Take a guess. Here she is.
The fact that Obama agreed to the shoot won't come as a surprise to people who read the magazine because they've been lobbying for a cover since September. And according to Women's Wear Daily, the Editor-in-Chief hosted fundraisers for the Obamas during the campaign.
Cover shoot
What can we expect?
If we were describing her dress featured on the cover, we'd call it a "vibrant pink Jason Wu sheath."
Ok, we cheated. We don't even know what a sheath is. That's how the folks at Women's Wear Daily describe it. We'll let them continue.
---