Obama tops Jesus in new poll. Reagan 4th, God 11th.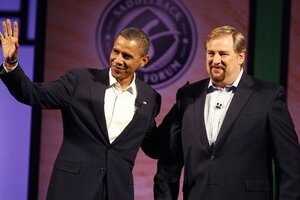 Richard Vogel/AP/File
America's Top Heroes. It may sound like a new reality show like "Top Chef" or "The Biggest Loser" or "Whose Husband is the Most Deranged?"
But, in fact, it's a new poll. Proving that the polling industry must be immune to any economic downturn, the guys at Harris Interactive asked 2,600 adults last month who was worthy enough to be called their heroes.
This was a serious study. The pollsters asked the question, "Who do you admire enough to call a hero?" They then took the unprompted, spontaneous answers and compiled the results. And then got paid.
Coming in at number one...
President Barack Obama topped the charts followed by Jesus. Unfortunately, we don't know how close the competition was. There isn't an accounting of votes like there is in collegiate sports. Was Jesus a close number two? Or was it Obama in a landslide? We don't know.
---