Chris Matthews, Bobby Jindal, and God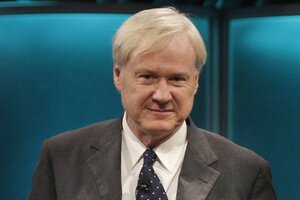 MATT SAYLES/AP/FILE
No, Chris Matthews was not comparing Louisiana Governor Bobby Jindal to God.
That would be noteworthy for the left-leaning MSNBC anchor. The exclamation was probably uttered with a rolling of eyes.
If you aren't up to speed on the story, here's a quick refresher:
Disembodied sound
Right before Jindal strode to the podium to deliver the Republican response to President Obama's remarks to a Joint Session of Congress on Tuesday, a mysterious voiced pierced the airwaves of MSNBC.
Well, maybe not pierced. It was barely audible. "Muttered" might be the better word.
But it was clear whoever the disembodied voice was, he said, "Oh God."
Who?
Speculation ran rampant. The Huffington Post even turned it into a game. Who said it?
The top two vote getters were Keith Olbermann (35 percent) and Chris Matthews (32 percent). A camera operator got 15 percent of the vote while an unknown producer received 12 percent.
Those who guessed Matthews were correct.
Oops
Was Matthews apologetic? Horrified? Ready to step down out of fear he could be seen as biased?
---