Ted Kennedy gets knighted - Nancy Pelosi goes airborne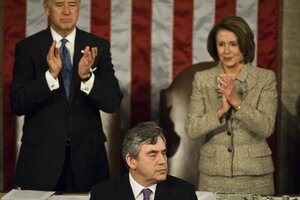 NEWSCOM
Well, great. What kind of a rip-off is this? Ted Kennedy gets knighted and you can't call him Sir Ted? But you can call Elton John, Sir Elton?
Rules are rules.
Whoa
It's kinda like in the movie Fast Times at Ridgemont High. Remember when Brad admonishes Jeff Spicoli and his stoner friends for not wearing the appropriate attire in the fast food joint?
"No shirt, no shoes, no dice!" Spicoli said reading the sign.
It's the same thing. Except different.
Honorary Knight
British Prime Minister Gordon Brown was in Washington, DC today and it felt a lot like President Obama's remarks to Congress last week.
He too addressed a Joint Session of Congress. And as soon as the Prime Minister paused (just like last week), House Speaker Nancy Pelosi sprang to her feet like a rocket.
The reason for Pelosi's overabundance of joy?
Grey Poupon
Senator Ted Kennedy is becoming a member of British nobility. He's getting knighted. And it's not just a nicety or anything. Brown credits Kennedy with some big achievements.
"I know that you will allow me to single out for special mention today one of your most distinguished senators, known in every continent and a great friend," Brown said. "Northern Ireland today is at peace, more Americans have healthcare, children around the world are going to school, and for all those things we owe a great debt to the life and courage of Senator Edward Kennedy."
---