Joe the Plumber now Joe the Attorney?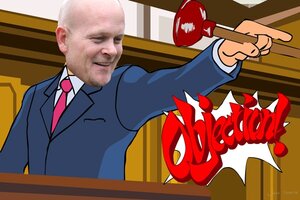 Jake Turcotte
It would be a heckuva lot more dramatic if Joe the Plumber announced he was representing himself in the lawsuit.
Entering the courtroom with legal briefs in one hand and plunger in the other. Vowing to flush the legal system clean of impropriety and wrong doing.
It kinda has a John Grisham feel to it.
Sure, Joe doesn't have a law degree, but he doesn't have a plumber's license either. And in just a few short months, he's been a renaissance man. Campaigner, author, war correspondent, economic advisor, speaker -- why not lawyer?
Come on, Joe!
Privacy rights
In case you haven't heard, Joe the Plumber (Wurzelbacher) is suing. He's going after the former Ohio government workers who did some searches on his background following the conversation he had with then-candidate Barack Obama last October.
You remember the day...
---