Tucker Carlson calls Jon Stewart a cow (a sacred one)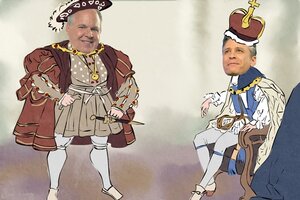 Jake Turcotte
Is Jon Stewart a slimmed down version of Rush Limbaugh?
If you listen to Tucker Carlson anyway, that's what you could conclude. Carlson appeared on CNN's "Reliable Sources" yesterday and had little nice to say of the Daily Show host.
Carlson claimed Stewart is a "partisan hack" who is so popular that no one dares to criticize him. And that's frustrating Carlson.
If this is the case, then the two do have a lot in common.
Smackdown
Everybody knows what happens if you are a Republican (with standing) and say anything negative about Rush.
He'll call you on it. You get concerned. You apologize. The DNC mocks you on a website. Chris Matthews, Rachel Maddow, and Keith Olbermann all laugh (at you, not with you). And pundits start writing your political obit.
---