Obama writes letter to Chirac - blogosphere goes crazy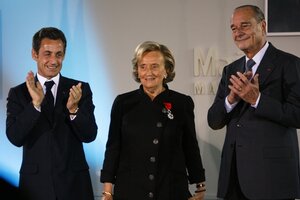 JACQUES BRINON/AP
Want to know how quickly rumors get spread on the Internet? Here's a prime example.
The right side of the web is apoplectic this morning claiming that President Obama doesn't know who the French president is.
They point to an article in the French newspaper Le Figaro reporting that President Obama last week wrote a letter to former French President Jacques Chirac.
"I am certain that we will be able to work together, in the coming four years, in a spirit of peace and friendship to build a safer world," Obama is purported to have written.
Wrong guy
This has electrified the Internet. Why would President Obama initiate correspondence with Mr. Chirac instead of President Nicolas Sarkozy?
One excited blogger writes, "Doesn't Obama ever consult his staff before acting? Sarkozy is the President there! It's like Sarko writing to George Bush and saying he looks forward to working with him. Chirac is the FORMER president."
That's a good heads up. But let's dig a little deeper.
French-speaking pal
Our handy colleague, Laurent Belsie, who writes the New Economy blog here at the Monitor, speaks French.  (We don't hold that against him.)
---