Michelle Obama hugs Queen - breaks royal protocol!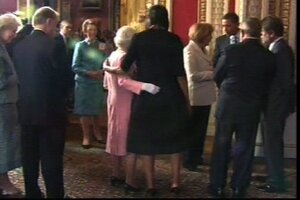 ZUMAWIRE/NEWSCOM
When first lady Michelle Obama hugged Queen Elizabeth yesterday, it was reminiscent of the classic American masterpiece "Tommy Boy" when Chris Farley, embracing his new stepbrother said, "Brothers don't shake hands, brothers gotta hug!"
Now while it was perfectly acceptable and quite frankly -- touching -- when this act of love occurred in the movie, it's not supposed to happen with the queen.
Queens don't hug!
In fact, it is considered a breach of royal protocol.
Throne
Apparently the first lady and the queen were hanging out in the Throne Room at Buckingham Palace. (It would be immature to make a crack wondering if it was the "Royal Throne Room" so we won't mention it.)
An official photo of the world leaders had just been taken, and while they were meandering out, the queen and the first lady struck up a conversation.
Eyewitness
What happened next rocked the world. Or at least Britain. Get a load of how the Daily Mail reported it:
"The Queen started chatting to Michelle Obama. She appeared to look up at her and make a comment about how tall she was," said an eyewitness. "As she did, she put her arm around Mrs Obama and rested her gloved hand on the small of her back."
---