Obama's dog Bo: Cute but what about promise to adopt?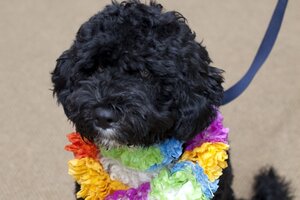 NEWSCOM
Just looking at him makes you want to break out in baby talk. He's so cuuuuuuute. Little happy puppy wuppy schluppy duppy.
In case you missed the news because of other priorities on Sunday (like Easter or the Masters), the Obama family has a new member. The new First Dog, Bo.
Leak
Word of the newest family member leaked on Saturday with a mysterious new web site called FirstDogCharlie breaking the news. TMZ spotted it and linked to it, causing the rest of the Internet to play catch-up.
Now that the dust has settled, we know that Bo is a 6-month-old Portuguese water dog, a gift from Senator Ted Kennedy.
The dog should be thrilled. He'll have the run of the White House, not to mention the North Lawn, the South Lawn, a swimming pool, plenty of trees, and perhaps his own website (like Barney used to have.).
Obama's daughters Sasha and Malia are reportedly very happy too.
Grumble
Not everyone's elated though -- because although Ted Kennedy is a Washington institution, he's not an animal shelter. And the president promised to adopt the First Dog.
He originally made this promise to Dr. Jana Kohl, the author of "A Rare Breed of Love" -- a book about a three-legged rescue dog and puppy mill survivor named Baby.
---