Miss California sparks outrage over gay marriage remarks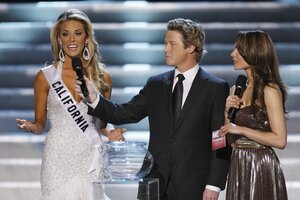 Mixing a beauty pageant with politics is a recipe for disaster. You could make a strong case for it, anyway.
The two merged last night at the site of the Miss USA pageant in Las Vegas. The result was similar to the fallout after the Miss Teen USA pageant in 2007 when Miss South Carolina gave the greatest non-answer answer perhaps in American history. Both times the non-winner of a pageant got all the attention the next day.
Outrage
But unlike the pageant two years ago, the contestant in the crossfire didn't give a nonsensical (and wildly entertaining) answer. The contestant last night, California's Carrie Prejean, was too articulate in the minds of many and led to some flaring tempers (similar to Janeane Garofalo's flare-up on Keith Olbermann's show the other night).
The question posed to the contestant couldn't be any more incendiary: gay marriage.
Asked judge Perez Hilton to Prejean, "Vermont recently became the 4th state to legalize same-sex marriage. Do you think every state should follow suit. Why or why not?"
Observers quickly learned that in Hilton's mind there was only one correct answer. And Prejean picked the wrong one.
---