Obama's $100 million budget cut amounts to a cup of coffee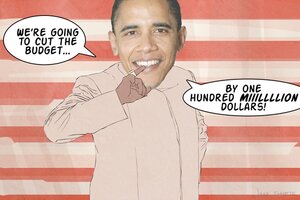 Jake Turcotte/Staff
The reaction over President Obama's call yesterday to thwack $100 million out of his budget?
Laughter.
One analogy could be in the movie Austin Powers (see video below). Remember when Dr. Evil announced he hijacked nuclear weapons and would destroy the world unless he received -- $1 million?
Rollicking laughter from Earth's leaders ensued because Evil didn't understand that $1 million in today's economy means nothing. So he quickly upped the ransom demand to $100 billion.
Small
Although it is doubtful President Obama will immediately follow suit and announce much larger budget cuts on the way, he may want to. The sum of $100 million does sound paltry when you compare it against the nation's $3.5 trillion budget.
Reporters at yesterday's White House briefing seemed to be perplexed at the grand announcement.
"The $100 million target figure that the President talked about today with the Cabinet, can you explain why it's so small?" asked the AP's Jennifer Loven.
While White House press secretary Robert Gibbs began to tap dance. ABC's Jake Tapper chimed in recalling that the Obama administration ridiculed a figure 80 times larger than that -- $8 billion -- as being chump change when defending earmarks.
"You were talking about an appropriations bill a few weeks ago -- that at $8 billion -- being minuscule; a billion in earmarks. We were talking about that and you said that that a hundred million is a lot, but $8 billion is small?" he asked.
---