Germans love Bo Obama! Portuguese Water Dogs sell out.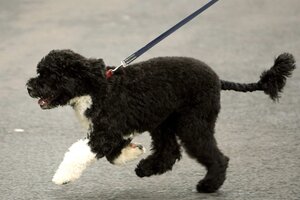 RON EDMONDS/AP
Well, we all know that Germans love David Hasselhoff. But now Hasselhoff is going to have to share the love.
Enter President Obama's new dog, Bo.
Boom
The president's decision to get a Portuguese Water Dog for his family has resulted in a boom in demand for the breed. At least in Germany.
The German newspaper Bild reports that the breed has sold out in the country and interest in the dog "is out of control."
"My phone has not stopped ringing and I have had at least 100 people call me!" one breeder told the paper. "Everyone wants puppies, but there are hardly any in Germany at the moment."
Surprising? Well, perhaps Bo Obama didn't know how popular he would be once donning the title of First Dog. But it was certainly something expected in the US.
Domestic
Just this morning, animal behaviorist Terry Jester wrote, "I hope the Portuguese water dog breeders are gearing up for what will be a huge surge in the demand for puppies."
---