Obama to Florida Gators: Congrats, but college playoffs needed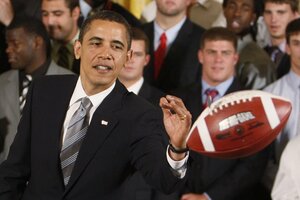 CHARLES DHARAPAK/AP
Sure, it can be argued that President Obama has flip-flopped a few times since taking office.
The apparent change of heart over whether his Justice Department will pursue charges against Bush administration officials over harsh interrogation policies could be the most striking example of flippy-floppiness to date.
Foosball
At least in one area, however, he's sticking to his guns: the call for a playoff system in college football.
Trivial? Ask a Longhorns fan. Or anyone in Pete Carroll country. The most explosive reaction you'll get would probably come from Utah. After all the Runnin' Utes went undefeated last year but was not named the national champ.
It's up to you how important the issue is. To President Obama, it's an issue. And he didn't back away it even when surrounded today by the BCS national champions.
We're #1
Obama welcomed the Florida Gators to the White House, following a longstanding presidential tradition of recognizing sporting champions.
---